The Helgemo Team Compass: Looking Back to Move Forward
Posted by Brian Helgemo on Wednesday, March 2, 2022 at 3:15 PM
By Brian Helgemo / March 2, 2022
Comment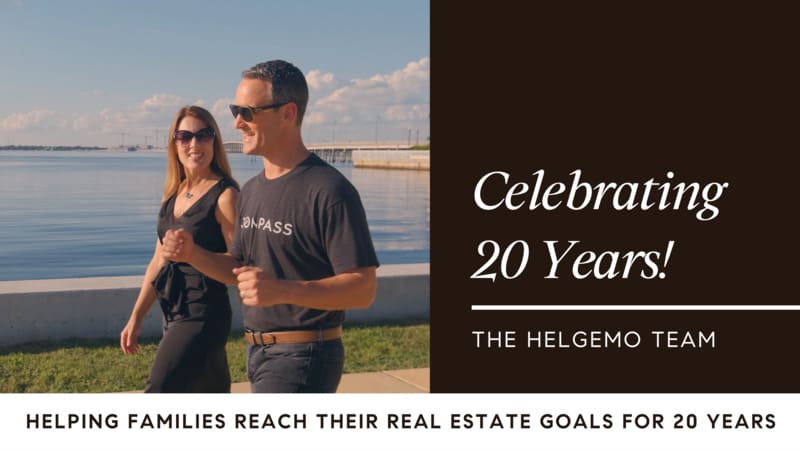 OUR STORY BEGAN IN THE EARLY 2000's
For Brian Helgemo, choosing to pursue a career in real estate was easy. His grandmother was among the first female real estate Brokers in the state of Florida, and his father practiced real estate law early in his career. After earning a degree in psychology, and gaining experience in sales, Brian made the natural progression into real estate.
A LOT CAN HAPPEN IN 20 YEARS
Throughout the last twenty years, Brian and Bonnie have dedicated themselves to raising the bar for what sellers, buyers, and their own agents can expect from the real estate experience. By continually refining the buying and selling process, their customer-focused approach has allowed them to deliver a smooth and seamless experience.
Today, we celebrate 20 years of helping families reach their real estate goals! A lot can happen in 20 years… to name a few of our favorite moments, The Helgemo Team has:
Grown from Brian being a single agent in an independent brokerage to Brian and Bonnie purchasing and fully-renovating their own building in the heart of downtown Punta Gorda.
Expanded from a team of one (Brian), to having Bonnie join him in 2004, to adding their first assistant in 2005, to now operating a full-service team of twenty that specializes in every aspect of the real estate sales cycle.
Served over 4,000 families in Southwest Florida and closed nearly $800 million in sales volume.
Built a partnership with COMPASS, the nation's most advanced real estate technology company by becoming their local founding agents.
What does all of this add up too? The best of all… as the community support of our business grows, our ability to support amazing local charities, schools, and events has also grown.
Throughout the last 20 years, weathering many cycles of real estate has proven Brian and Bonnie's ability to rapidly adapt to the changing market conditions, to protect and maximize sellers' equity and to help buyers find the best home at the best price. All of this is done while providing customers with best in-class service. In response to the current state of the market, The Helgemo Team continues to respond to the needs of our customers by offering a collection of solutions allowing sellers and buyers to buy and sell on their terms.
WE COULDN'T HAVE GOTTEN THIS FAR WITHOUT…
You! 50% of our business is referral based, and we are truly appreciative for the support of the community and network of family, friends, and peers that continue to trust us with their largest asset. Your loyalty is a great part of the reason The Helgemo Team has been growing steadily since the very beginning. For that, we say, "thank you."
CREATING LONG-LASTING PARTNERSHIPS WITH OUR CUSTOMERS
Though so much in the real estate industry has changed throughout the years, some things never change and continue to be the key ingredients in The Helgemo Team's success: Offering awesome and honest customer service to awesome and honest customers. By focusing on the delivery of our value propositions, refining our processes and procedures, and developing innovative, customer-focused solutions, we are always excited to navigate the ever-evolving market.
Since the very beginning, our priority has been listening to the needs of customers — and ultimately our success is measured by the happiness of our customers.
WAIT - THERE'S MORE TO CELEBRATE!
In 2008, The Helgemo Team reached the number one spot on The Board with 108 transactions. Over the past 12 years, the team has continued to rank number one, or place within the top three, for sales.
As we recognize our 20th anniversary, we are also celebrating our first year with over $120 million in sales volume, naming us the #1 ranked real estate team for total volume sold in 2021, a milestone we are grateful to achieve.
THE NEXT 20 YEARS
As The Helgemo Team moves into its 20th year, we will continue to offer buying and selling solutions that meet the ever-evolving market conditions. Real estate isn't just a transaction. It is your family's first home, your retirement dream, your place of rest, work, and play, and one of the best investments you will make in your lifetime. As we move into the next era of our company, we remain committed to giving you our best, at all times.
Cheers to 20 more!